Foursquare. A place for brands.
Categories: Insights
---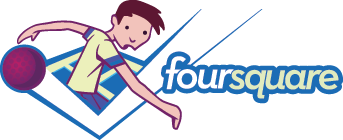 Brands are a part of our everyday lives. That's now a given, mostly due to the power of "traditional" advertising via mass media over the past 75 years or so. What most companies are now striving for (or need to be) is a way to make that integration more natural…more authentic.
With that in mind, I think Foursquare is something to pay attention to. Here's the biggest reason:
In the other fast-growing social media spaces — like Twitter and Facebook — conversations are started by people, and random brands get brought up at random intervals within that flow. The brands who are listening well then scramble to become a part of that conversation…whether to thank good customers or get in front of a wave of criticism. While there are some companies who've found pro-active success on those platforms, the majority of success has started by being re-active.

Foursquare, on the other hand, is brand-centric. All conversations start because of a brand. And both permission marketing and word of mouth marketing are inherent. In fact, for those who've played the physical game that shares the name, you could say that brands are in the king square.
The concept of Foursquare is simple: share with people where you are and what you're doing. But at the same time, notice how many items it checks off this list of trends to watch in 2010.
It's mobile. Once you've registered for Foursquare, you use your laptop or smart phone to "check-in" to locations (geolocation). But since there's only so many places you're going to be totting your laptop to, it's the mobile aspect where the capabilities of the system really come to life.
It's social. Once you start telling friends where you are (real-time, or even future-casting) it becomes another way to connect "in real life." But as opposed to a call or text to an individual, it's a broadcast to all your friends: "Is anyone near me?" The system can even tell you as you check-in that "Joe, Jane and Jack are also here."
And if none of my friends are here? This is where word of mouth (WOM) marketing comes in. I can leave a tip for my friends at a place, and I'll see tips from them. For instance, I left a tip for The Pit — a great local BBQ place — that people will see when they check in to a location nearby. It'll be a pop-up on their screen that says something like "Since your so close, John L. says you should stop by The Pit and get pulled pork plate with sweet potato fries and cole slaw." (You can read more about The Pit, Foursqaure and Twitter here.)
It's a game. For every check-in you receive points, and for certain activities you earn badges (for instance, checking in at multiple venues in one night). And since a score or collection of badges only matter when you have someone to compare yourself to, you also see where your friends check in; the goal is to gather more points than your friends for the week (points are reset every Sunday night). Also, the person who checks in most regularly at a particular place becomes the mayor. I've already witnessed plenty of conversations about why it feels good to be the mayor. And that becomes another boon for — you guessed it — brands!
It's geolocation-based permission marketing. To pick on them again, The Pit offers a deal to the current Mayor. And each person who checks in can see what that deal is, giving them incentive to return and interact with the brand. It's completely up to the brand (shop, restaurant, business, etc.) to decide what message and offers to give. Pepsi is taking a different angle with cause marketing – sponsoring the scoreboard and making a cash donation to CampInteractive for every point registered. The campaign is described in-depth here.
Is Foursquare right for everyone and every business? Not necessarily. But it's definitely a platform — and in terms of brand-centric social media, a trend—to be aware of and considered.
---
Watching TV as a kid, I used to run to the bathroom during the shows so I could make it back for the commercials. Those days launched me down a path that included layout and writing for the college paper; communications strategy for political campaigns; marketing strategy and graphic design for Gensler (a global design and architecture firm); and the implementation of new programming, animation and design techniques for Centerline. Today I specialize in content marketing strategy and building digital deliverables to execute those strategies. But it's about more than just creating killer digital content. At Centerline, we help clients succeed in the digital marketplace using a three-pronged approach: strategic (message creation, brand strategy), tactical (design, development), and analytical (measurement and adaptation). This experience-tested approach allows me to build campaigns that are both well-designed and effective for clients like IBM, GE and National Instruments.